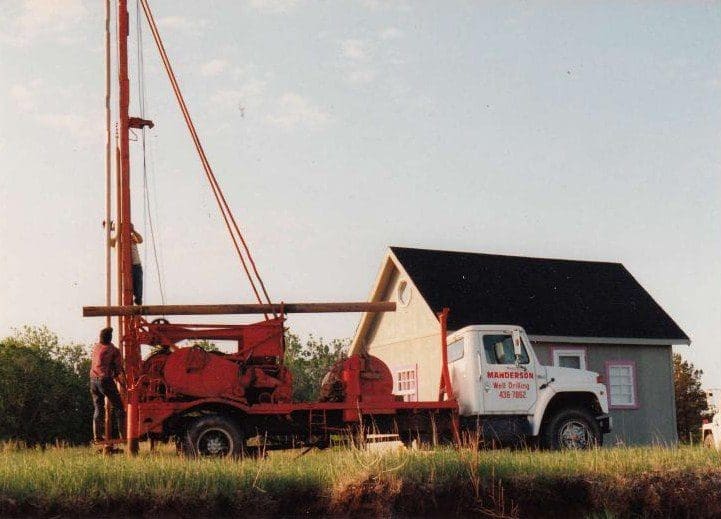 After 36 years in the industry, we know the drill.
John Manderson started drilling wells for Islanders in 1986, quickly earning his reputation as an honest, hardworking, and dependable driller. Today, Manderson Well Drilling is owned and operated by John's son Jack, who grew up in the family business and is proud to continue his father's legacy.
Known for being as creative as he is capable, John Manderson is no stranger to hard work. From operating his own sawmill to fishing smelts and eels in his handmade dory, John's resourcefulness and talent for tinkering ultimately led to the inception of Manderson Well Drilling.
It all started with a used drilling rig. After trading an old bulldozer for a drilling machine that piqued his interest, John spent all winter restoring the rig and figuring out the best practices for drilling on Eastern Canada's varied topography. In the spring of 1986, Manderson Well Drilling came to life.
John studied geology, built his own tools, and customized his drilling rig, working tirelessly to become a master at his craft. He invented the first and only method of testing well casing on PEI, and over time John became known as a pioneer in Eastern Canada's well drilling industry.
Always looking for his next challenge, John eventually took his expertise into the environmental and geotechnical drilling fields, where he created a custom mini drill for drilling inside low clearance areas. His invention took off and launched a new division of Manderson Well Drilling called Ground Check.
By 1995, Manderson Well Drilling was thriving, and well established as a reputable drilling service. That same year, John's son, Jackson, started working for his father as a driller's helper. He worked his way up to driller, and after 22 years of drilling with his father, Jackson took over the family business in 2017. Inspired by his father's endless curiosity and drive for continuous improvement, Jackson Manderson is proud to follow in his father's footsteps and works hard to uphold his family's legacy as the Island's premier drilling service.